January 23, 2021        
By Maung Tha (Archaeology), Translated by Than Tun Aung
Myanmar encyclopaedia defines a royal page as child servant who served minor duties at the royal palace and royal residences in the past. Veteran historian Dr Toe Hla said those children under seven years old served at the king for carrying out minor tasks.
Religious edifices were decorated with statues of royal pages, and now, they are well-known as Papier-mâché dolls.
Statue of royal page

Some people decorate their houses with puppets of royal page, made of wood, stone or concrete in postures of sitting, playing, standing, offering oil lamps to the Buddha images and so on. Now, the puppet of the royal page is in standing position.
Hair of Papier-mâché doll is tied by a string on both sides of its head. Its neck is decorated with a large gold coin. The doll grids its loins. Large bracelets are worn at wrists and ankles. Cheeks are decorated with round patches of Thanakha. In dancing, the doll wears quarter pants.
In 1996, Myanmar used Papier-mâché doll as a mascot of the Visit Myanmar Year.
Thrones of Myanmar kings were decorated with 12 kinds of decoration including a statue of royal page. The statue can be seen in front of the throne in Anjali Mudra. Some statues bare clothes. Thiha Thana throne displayed at the National Museum in Yangon was decorated with eight 22 inches high gilt royal page statues made of wood.
Carving the statues of royal page dedicates portents for day by day growing up of prestige and power of the king. Anjali Mudra of the statues is the posture of electing the Buddha embryo as the president in the early world, according to Vocabulary in Use of Royal Palace Dictionary.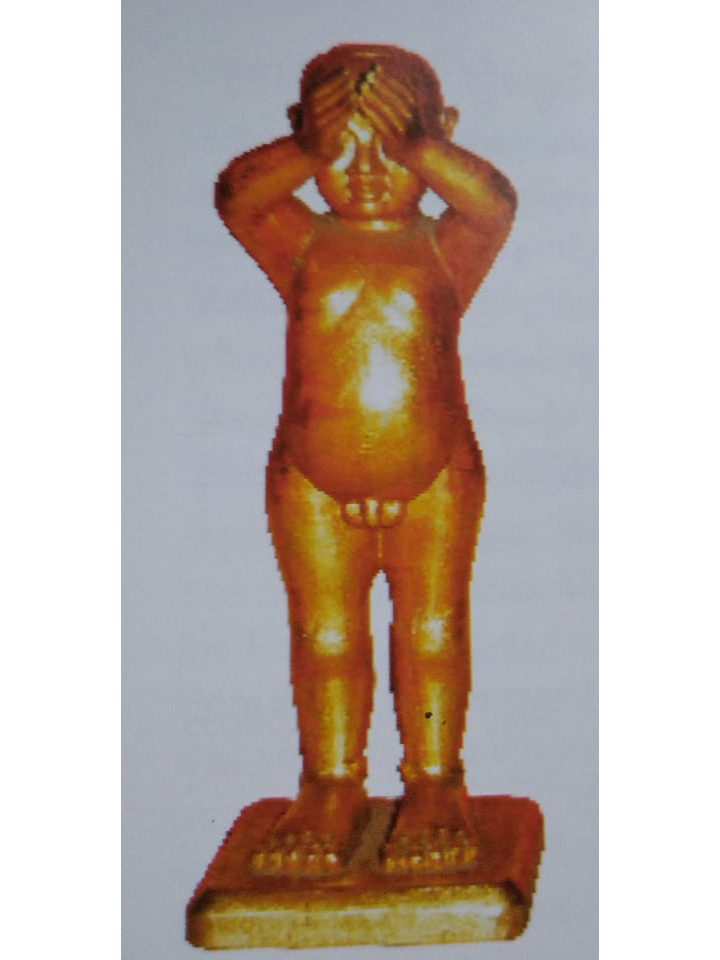 Origins of royal page and definitions

Some Myanmar histories mentioned ranks, duty and obligations of royal pages in the monarchical era.
They were sanitation workers serving at the western royal building. They served in the reign of King Badon (1712-1819 AD) in the Konbaung era under supervision of clerks from the western minister. They had got 80 baskets of paddy as salaries.
King Bodawpaya allowed 110 people of families from Thandwe, Yanbye and Manaung of Rakhine State to reside in Amarapura Royal Palace in Nadaw of 1150 ME. The king allotted land plots to them and formed the royal page group.
Historian Daw Kyan wrote they served near the king to perform tasks at same positions of those managing shoes, betel quids and tea servants.
The paper on royal administration of Myanmar kings stated the royal pages had to clean the rooms and pavements of queens, princesses and maids of honour. If these areas were uncleaned, the western minister had to punish them.
Old Myanmar History compiled by Myanmar Historical Commission member U Thein Hlaing mentioned child servants had to clean halls of king and queens, especially toilets.
The dictionary compiled by Judson mentioned royal pages as formerly palace sweepers or personal attendant of a Saopha. But, historian Daw Kyan reviewed such servant might not exist current era because of using 'formerly'.
Researchers clarified matters related to royal pages in Bagan era with evidence. O Pyae Sone Thin stone inscription (at Saw Min Latt Pagoda) carved in 595 ME, Saw Hla Wun Pagoda's stone inscription in 626 ME, Minwaing stone inscription in 627 ME, Mathkhein Phwarzat stone inscription in 631 ME and Tuyin Pahtoe stone inscription in 651 ME mentioned royal pages. Moreover, Thitmahtee Kyaung stone inscription carved in 634 ME in Bagan era, Minister Intapaccaya stone inscription in 655 ME and Thanbyin Zeya Thahtay stone inscription in 656 ME used words of royal pages.
O Pyaw Sone Thin stone inscription expressed that child servant was one of the royal pages. They were at the same level of Thanbyin, Kalan, Hura and Thukhamein posts. Min Waing stone inscription said the child servant discharged duty together with gift collector Uttamabhiriz under King Uzzana, according to Myanmar Historical Commission member Sayamagyi Daw Kyan. Likewise, Thitmahtee stone inscription mentioned royal pages were witnesses in trading farmlands. Minister Intapaccaya stone inscription mentioned merits gained in donating the monastery were shared with king, minister, mother of the king, first queen and royal pages.
According to the records in the stone inscriptions, royal pages in Bagan era were different in positions of Amarapura and Yadanabon eras. Those servants were at the same level of Thanbyin, Kalan, counsellor, Hura and Thukhamein posts. Royal pages were not room cleaners.
As such, veteran historian Dr. Than Tun remarked that royal pages might be those born at the same moment as the king.
Royal pages in after Bagan era

In the reign of King Ngaseeshin Kyaw Swa in Pinya era, Danyawady revolutionary treatise compiled by Rakhine Sayadaw mentioned matters related to royal pages, saying that Chit Hnaung Oo, son of Tagaung governor, served at Taseeshin Minye Kyaw Swa and his brother Shwe Hsin and the younger at the crown prince.
Uminkyaung stone inscription carved in Pinya era of 700 ME mentioned Apathunge generally used in Bagan era, urging Thanbyin, high officers of Myanmar royal court and royal pages to call well-done for the meritorious deeds. That is why royal pages might be in a high position in the Bagan era.
According to the research conducted by Saya Bo Sheik, stone inscription of Thangetaw Village head carved in 727 ME in Inwa era mentioned that head of Thangetaw Village U Shwe Khet and wife donated 10 peis of lands to Pinya Shwezigon Pagoda. The stone inscription of Asalathu of Thangetaw Village donated chamber and land plots to the pagoda in 761 ME. The stone inscription from Yanaungmyin Pagoda in 769 ME stated when King Min Khaung I built Yanaungmyin Pagoda, the head of Thangetaw Village Nan Thu Klaung donated 13 peis of farmlands and 10 pieces of gold bracelets to the pagoda.
Shin Maha Rathtathara of Inwa era composed Samvara poem illustrating royal pages as guards of stairways and arches leading to the inner royal buildings.
In the second Inwa era (Nyaungyan era), royal pages became gunners to take security measures of the royal palace. In the reign of King Thalun, the royal page troops were involved in 40 groups under control of the western minister. However, some royal pages guarded the dead bodies in the royal palace according to the orders and gazettes.
Researcher Bo Sheik wrote that royal pages became guards at the doors in the time of King Sinku in Konbaung era. In the reign of King Badon, some royal pages discharged the duty of cleaner. Some royal pages discharged higher duties. According to the fold paper of toilet door group, some royal pages guarded toilets in the time of King Badon, but the paper did not mention they carried out sanitation of the toilet.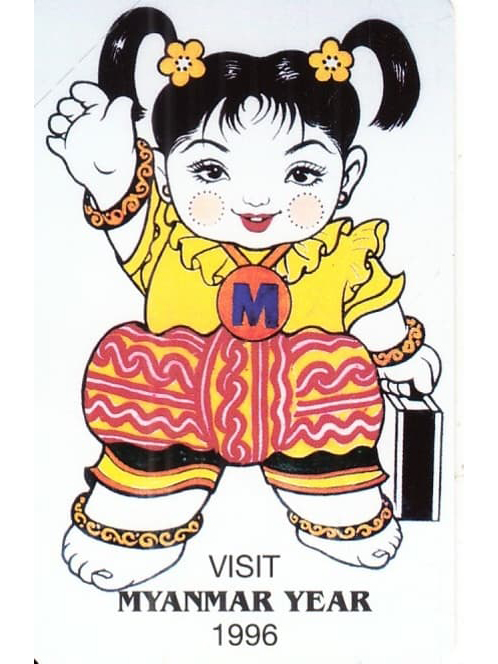 Seven characteristics of royal pages and royal page dance

Swesone Kyawhtin treatise mentioned Kyeethe Layhtet Sayadaw replied to question on seven characteristics of royal pages having capabilities namely well-knowing wish of the king, having neatness and tidiness, cleverness, abiding by the laws, having wider knowledge, minimizing needs and conscientiousness to serve the king.
The puppet of the royal page is involved in 28 puppets in the marionette drama of Myanmar. Each puppet indicates 28 physical structures of Abhidhamma Desana preached by the Lord Buddha.
The 28 puppets comprise 17 right puppets and 11 left puppets. The puppet of the royal page is included on the list of right puppets. The preliminary dance of female dancer in the drama needs to follow 12 kinds of dancing called 12 dancing sections of female dancer. Seven sections from the performance of the female dancer were separated into seven kinds of dancing. Dancing of royal page was included in both 12 sections of a female dancer and seven kinds of dancing. As such, two puppets of royal page were used in the past, but the marionette performance uses only one royal page puppet.
In staging marionette performances, it is the most difficult to handle strings of the royal page. Later, the dance of royal page was inserted into the theatrical drama performance. In central Myanmar, local people perform a dance of royal page to the accompaniment of Dobet troupe in procession of novice-to-be.
As royal pages served the king from Bagan to Konbaung eras, they might be trusty servants of the king. Their ranks might be the same as servants for shoes, tea and betel spittle or might be higher them. Now, royal pages cannot be seen, but statues and dance of royal page still remain as Myanmar cultural heritages.
References:
Dictionary for words used in royal palace
(U Maung Maung Tin)
Royal page and gun for the royal page (Daw Kyan)
Royal pages in the history
(Bo Sheik, Yadanapura)