28 Aug

(At 12th day of second Pyithu Hluttaw's 17th regular Session on 27 August 2020)

Question on whether there is a plan to implement a National Strategic Plan for One Health, which combines the health of human and animal and environmental protection.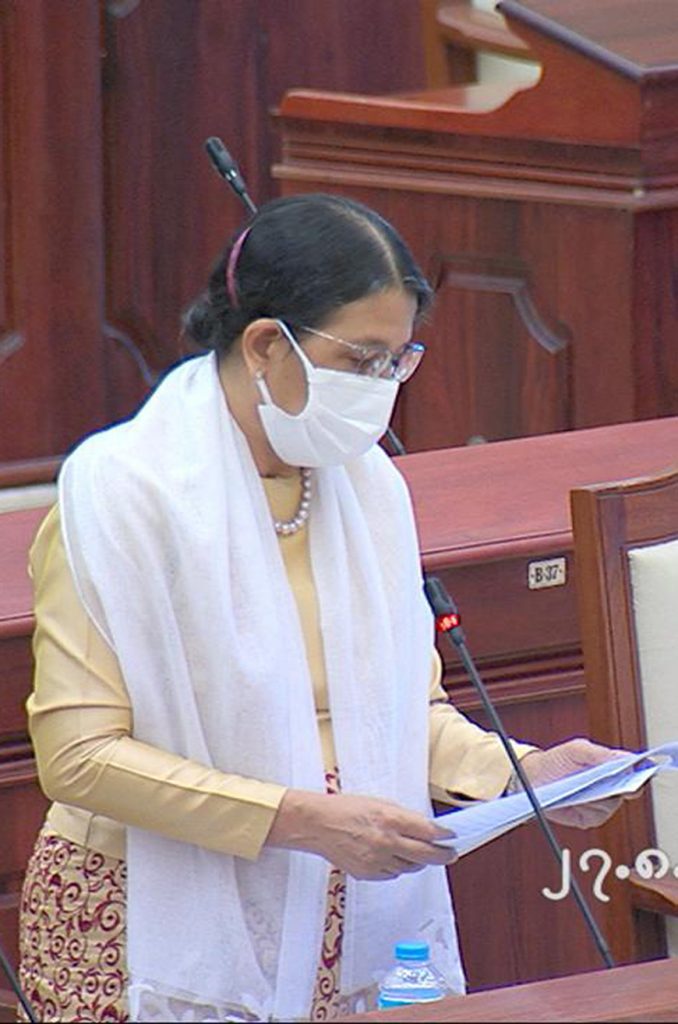 MP Dr Than Aung Soe ( Minhla constituency): : "Honourable Speaker, I am MP Dr Than Aung Soe from Minhla constituency. I would like to know if there will be a National Strategic Plan to implement "One Health" which combines human health, animal health and the environmental protection. The honourable Hluttaw Speaker and members of the Parliament, health is a blessing. Human needs to have both food safety which is to eat safe milk, meat and eggs and food security which is to have enough food. Now, COVID-19 is killing many people and threatening world's economy. 

These kinds of disease start from animals and are called Zoonoses. 75% of human diseases are transmitted from animals such as Glanders and Farcy disease, Q Fever, Leptospirosis disease, H1N1, Swine fever, SARS, MERS, Psittacosis, COVID-19 and many more. Until now, 61.6% of 1,415 diseases are based on animals."

"The reasons of the transmission of such diseases are because population explosion leads to invading animal world and being close to them, transport of meat around the world and wild life markets. Besides, carrying alive animals among the people in markets can spread the disease. If we look at the newly discovered diseases, they come from a place where the disease usually occurs and is transmitted to new places. Another form of the disease is that the virus doesn't infect to normally infected people or animals but others and the disease occurs due to the mutation. At that time, the virus has become stronger and varieties of diseases can multiply unbelievably. COVID-19 is now mutating and changing from D614 to G614 as ten times more infectious disease. The diseases can be invented as a Bio Weapon by terrorists, too"

" Honourable Hluttaw Speaker and Members of Parliament, cooperation of diagnostic doctors, veterinarians, lab technicians, environmentalists, researchers and experts from related fields to implement "One Health National Strategic Plan" can prevent the unthinkable terrifying new diseases. That is why I would like to ask through the Honourable Speaker. Thank you very much."

The Speaker : Ministry of Health and Sport to answer.

Answer by Dr Mya Lay Sein ( Deputy Minister for Health and Sports), " Honourable Pyithu Hluttaw Speaker and Members of Parliament, I will answer the question of the MP from Min Hla constituency. I would like to request to let me use Power Point and English language. In International Health Regulation-IHR (2005) enacted by WHO, a new framework was added to response among member nations if there is international emergency for public health. The framework calls for a link between the two spheres of human and animal health to effectively carry out disease surveillance and response in rare cases, including zoonotic diseases. Livestock, Breeding and Veterinary Department and the Department of Public Health have been working together to prevent and control the H5N1 virus since the outbreak of the Avian Influenza A-H5N1 pandemic in Myanmar in 2013."

"In March 2016 in Nay Pyi Taw, One Health Strategy Workshop was held with representatives from UN agencies such as FAO, OIE, WHO, USAID and international organizations, environmental conservation, human health and animal health sectors in Myanmar and based on the findings of the workshop, a roadmap for one health priority and a strategic roadmap was developed.

Based on this information, various sections were discussed and datas were collected and finalized in the last week of September 2019, and the National One Health Strategic Framework and Action Plan of Myanmar 2019-2023 was finalized. The key ministries which are Ministry of Health and Sports, Ministry of Agriculture, Livestock and Irrigation, Ministry of Natural Resources and Environmental Conservation have reached an agreement in order to implement the strategic process. The goal of implementing a single health plan is to reduce the burden of animal-to-human transmission of the disease, to prevent the new Zoonotic Diseases and Re-emerging Diseases and to response effectively if they occur and to prevent antibiotic problems and foodborne illness. In the National One Health Strategic Framework and Action Plan of Myanmar (2019-2023), Antimicrobial resistance-AMR and six priority diseases that can be transmitted from animals to humans- Rabies, H1N1, TB, food poisoning, Japanese encephalitis and Rabies have been put in place to prioritize and are being implemented in the relevant sectors. Public Health Department has distributed the guidelines for prevention and control of the diseases such as SARS, Food-Borne and Water-Borne Diseases, Ebola, MERS, Salmonella, Leptospirosis, Brucellosis, Tazoplasmosis, Pararsitic Infestation.

The Food and Drug Administration (FDA) under the Ministry of Health and Sports is responsible for food safety activities for the health and safety of human, animal, meat, fish and Agriculture; Livestock Breeding and Veterinary Department and the Department of Fisheries under the Ministry of Agriculture, Livestock and Irrigation are responsible for the quality and safety of meat, milk, eggs, and fishery products.

With the cooperation of public health care services and breeding and veterinary services , National-Level IRS- PVS National Bridging Workshop was held in 2019 and discussed making Road Map for Human Health and Animal Health and promoting the skills of staff to serve for Zoonotic Diseases.

The health guidelines and prevention, control and treatment measures of COVID-19 pandemic, which breaks out across the world including Myanmar, directives for isolation, diagnostic guidelines are also sent to the regions and states Public Health and Medical Services Department.

Moreover, regarding with the control of Anti-Microbial Resistance, the National Coordinating Centre is affiliated with National Health Laboratory and five Technical Working Groups- Awareness, Surveillance, Infection, Prevention and Control, Antimicrobial Usage and Research & Innovation are being organized under NCC. One Health Strategic Framework and Action Plan is carried out under One Health Approach with Anti-Microbial Resistance control, labs under the Ministry of Health and Sports and animal health labs under the Livestock Breeding and Veterinary Department.

The Medical Services Department and National Health Laboratory conduct diagnostic test on One Health Priority Diseases as (a) National malaria control department recognized by WHO, (b) National Japanese Encephalitis Laboratory, (c) laboratory test on Rabies by PCR, (d) diagnosis of bacteria that can cause food poisoning, (e) screening bacteria that can cause Rabies.

The Public Health Laboratory of Mandalay conducts Japanese Encephalitis as Sub-National Japanese Encephalitis Laboratory. The laboratories under the Ministry of Agricultural, Livestock and Irrigation and Livestock Breeding and Veterinary Department also test for rabies, H1N1 and marine products whether they contain microorganisms.The COVID-19 tests are being carried out at NHL, DMR, Public Health Laboratory (Mandalay), Public Health Laboratory (Mawlamyine) with Real Time PCR and with GeneXpert in 26 townships of regions and states including General Hospital (Sittway). The Department of Public Health Laboratory will be open soon in Taunggyi and Lashio townships to continue diagnostic works. The currently used PCR laboratories are included in External Quality Assessment Programme (EQAP) of the World Health Organization.

For the capacity building of the National Health Laboratory, the staff are given trainings for Quality, Biosafety and Biosecurity. The Laboratory Network Strengthening includes information exchange training of public hospitals and laboratories across the country. Thank you all.

The Hluttaw Speaker : :Members of Parliament, according to 2013 Pyithu Hluttaw Law Section 150, it is a question and answer that benefits the citizens. I would like to inform you that it will be published in the Gazette and state-owned newspapers. 

(Translated by Ei Phyu Phyu Aung)