24 October 2022
I T is necessary to establish an international fish auction market for leading the domestic marine product markets where Taninthayi Region can produce finished marine products, according to the Taninthayi Region Fisheries Federation.
Taninthayi Region is an origin of producing Panamei white shrimp with high demand of the international market. The region authorities manage export of marine products weighing some 400,000 tonnes per year. According to the market demand, the region can expand the capturing of fish and prawn at the sea and increasing the fishery farming products. As such, the relevant departments and the Fisheries Federation are joining hands in keeping abreast of neighbouring countries in producing finished marine products.
Myeik Archipelagoes of Taninthayi Region produces more than 6,000 tonnes of the international marketable Panamei white shrimp on a yearly basis exported to some foreign countries, especially to Japan. In the international market, Panamei white shrimp fetches US$5,500 to $6,000 per tonne. As such, arrangements are being made to export such kind of shrimp to Russia.
"The largest volume of marine products from Taninthayi Region flows out into Thailand but it is just raw materials. Hence, Thailand leads the market due to production of finished goods. If we can produce finished marine products, the market can be kept under our control. So, we formed the Myeik Public Company Ltd to emerge the fish auction market. If so, we can produce the finished marine goods made of raw fish at cold storage and factories. Consequently, we can earn a larger amount of foreign exchange. Myanmar migrant workers will have a chance to return home for seeking jobs in the country. Currently, Myanmar primarily needs electrification, As such, we will strive for development of the region and the State as much as possible," said Secretary of Taninthayi Region Fisheries Federation U Thet Soe.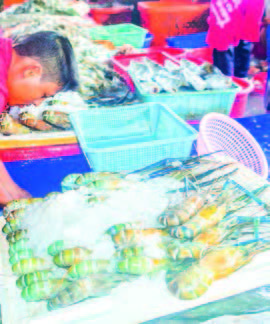 More than 1,000 offshore trawlers and some 10,000 onshore trawlers are running to operate their functions in Taninthayi Region. Export of some 400,000 tonnes of marine products helps earn more than $300 million foreign exchange per year. Manufacturing of finished fish products with the use of raw materials produced in the region can take a leading role of Myanmar products in the international fishery market in the neighbouring countries. In order to develop the fishery sector, it is necessary to establish an international fish auction market in Taninthayi Region.—Nyein Thu (MNA)/GNLM